🐶ALL IN ONE DOG & CAT BRUSH TOOL: Pet fur dematting, deshedding & brushing at the same time. Easy to use for pleasant experience of your dogs & cats. Be amazed by how much dog cat hair will come off after a single use! Your pets will love their new healthy and shiny coat.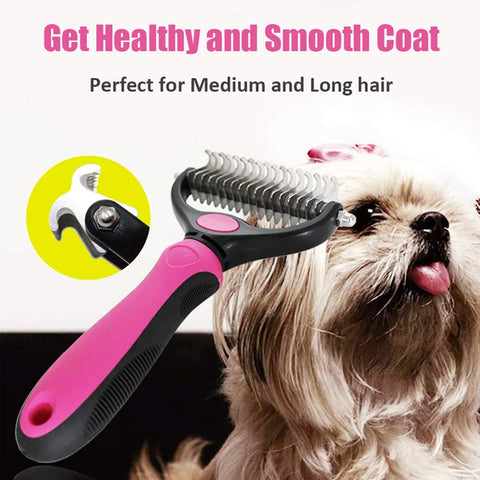 🐶STATE OF ART HEAD DESIGN: Painless to use on your pets with precision-engineered steel blade provides gentle but precise de-tangling,best for dogs & cats with sensitive skin. Rounded outside yet sharp inside for scratch free pet skin unlike other pointed edge pet grooming tools.
🐶PETS HAIR FREE HOUSE: A quick 5 minute brushing will remove tons of dead undercoat from your furry friend. Great for all pet breed from medium to long haired coats. Solution for coarse,long,curly or wiry matted fur coats making it a best gift for pet lovers.
🐶PROFESSIONAL GRADE RESULTS:This is a premium pet grooming and de-shedding comb designed to effectively remove all loose hair, knots and tangles from your pet's coat. It is an affordable and convenient tool that allows you to provide professional grade grooming services to your pet at home.
🐶Dual Head Design : Unlike other pet de-shedding tools with interchangeable heads, the 2-in-1 head design of our undercoat rake offers you the same convenience as a single unit. It has 9 rounder blades on one side for de-shedding and 17 sharp blades on the other side for shedding.
🐶NO SCRATCHES AND NO PAIN : The stainless steel round teeth make it safer and more comfortable on your pet's skin. Not only does it help remove undercoat and loose hair without pulling or cutting the fur, but it also makes grooming easier by cutting knots and removing mats without scratching your pet's skin.
🐶Designed with sharp but finely rounded teeth, this pet grooming brush allows you to easily remove knots, tangles and loose hairs without irritation or scratching. 
Effective hair removal tool:
This pet grooming brush gently removes hair from the undercoat, helping to remove dander, residual dirt and hair. It is the perfect solution for cats and dogs with thick coats or thick double coats. 
Comfortable to use:
Easily removes the thinnest knots. This pet grooming brush is lightweight with a non-slip handle for comfortable and stable use during grooming.
Specification:
Material: TPR, 

Stainless steel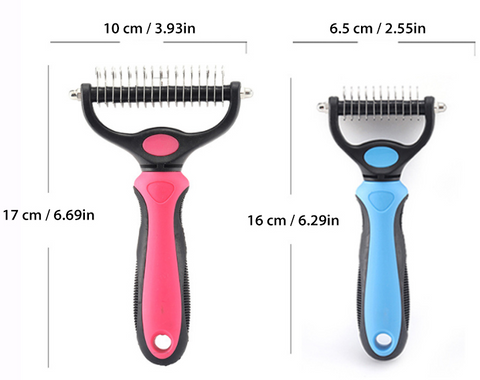 Package includes: